Welcome to South West Animal Health Centre & Associate Pet Hospital
Your Veterinarian in Swift Current, Saskatchewan
Call South West Animal Health Centre at 306-773-4121
Call Associate Pet Hospital at 306-773-7899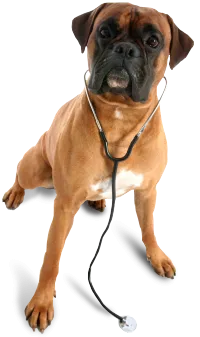 Animal Emergency? Read no further and call us right away!
If you live in Swift Current or the surrounding area in Saskatchewan, then you have picked the perfect site to find a veterinarian. We have many licensed veterinarians, treating all types of animals. Your animal's health and well being is very important to us and we will take every step to give the best possible care.
We have a full service small animal hospital and a full service large animal hospital. We take both emergency cases as well as less urgent medical, surgical, and dental issues. We are experienced in all types of conditions and treatments. We have someone on call for after-hours emergencies 365 days of the year. Just call 773-7899 for small animal and 773-4121 for large animal and our call service will put you through to the veterinarian on call. Beyond first rate care, we make our clinic comfortable, kid-friendly, and a very calm environment.
We have a number of resources for you to learn about how to take better care of your animals. Browse around and look at our articles and pet videos. The best veterinary care for animals is ongoing nutrition and problem prevention. If you want to ask a question call 773-4121 for large animal or 773-7899 for small animal or email us and we'll promptly get back to you. Both clinics are very easy to get to, and you can find directions on our Contact Us page. You can also subscribe to our newsletter which is created especially for Swift Current pet owners. In between your veterinary visits, your pet will benefit from you reading these free informative articles.
Accreditation:
The licensing body for veterinarians in our province conducts regular on-site inspections of our premises. This process is designed to protect you and your pets and ensures that our facilities meet specific standards including equipment requirements, proper patient record-keeping, safe drug storage, medical reference library and orderly and sanitary premises. Meeting these standards can require significant investments in time and money.
Mission Statement
The South West Animal Health Centre and Associate Pet Hospital will provide the BEST client service to each and every client in an honest, ethical, and professional manner. This will be accomplished by the staff through teamwork and cooperation with both their coworkers and clients. While fulfilling this mission, work/life balance of the staff will be maintained allowing them to perform at their highest level.
Swift Current Veterinarian | South West Animal Health Centre, 306-773-4121
2997 North Service Rd W
Swift Current, Saskatchewan S9H 3W7
Associate Pet Hospital, 306-773-7899
2897 North service Rd West,
Swift Current, SK S9H 3W7